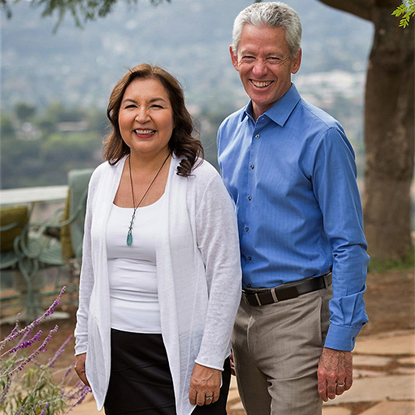 Anita Sanchez & Kit Tennis
Our 35 years of organizational management and consulting experience reaches from the non-profit world to the offices of Fortune 50 CEOs. We have created dozens of training, consulting and coaching solutions, delivered around the world in every kind of setting.  We dedicate ourselves to our clients' success, exhibiting the highest standards of personal authenticity and compassion for our partners' challenges, partnered with an unwavering dedication to excellence and extraordinary results.  They reward our commitment to them by inviting us back, again and again.
We commit to your unbounded success, for you to achieve your highest vision and exceed your stretch goals through engaging the genius of all your people.
Sanchez Tennis & Associates
Leaders and their organizations face challenges

and

great opportunities.  We are here to help you succeed.
Do you face issues like these:
Engaging the best in your employees
Collaboration within and across teams
Inspiring new thinking and attitudes
Developing a truly inclusive culture
Inspiring innovation at all levels
Promoting honest, healthy communication
Breaking down silos and resolving conflict
Do you have company mandates that need support, like:
Inspiring a new vision or strategic plan
Rolling out a successful diversity and inclusion initiative
Developing vital people-leadership competencies
Engaging your diverse workforce in product and service development
Establishing and growing your employee resource groups
Revitalizing the organizational culture
Creating a Corporate Social Responsibility program