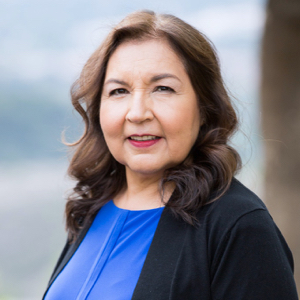 True gifts are to be shared and not squandered. Every moment creates a new opportunity for you to share your gifts. I'm passionate about connecting the hearts and minds of people around the world to build a better world through business.
- Anita Sanchez, Ph.D
Dr. Anita Sanchez, Ph.D.
A brilliant leader, trainer, speaker and coach, Anita Sanchez's work focuses on diversity, inclusion and engagement, developing leaders and organizations, transformational positive change, communication and applied neurophysiology/resilience.  Named a 2020 World-Changing Woman by Conscious Company Magazine and named one of 60 #ShesMyHero women by the World Woman Foundation in 2020.
Her passion is bridging indigenous wisdom and the latest in science to inspire and equip women and men to live their higher purpose in service and joy.
Anita is the author of the international award-winning bestseller, The Four Sacred Gifts: Indigenous Wisdom for Modern Times, (hardback, ebook, audiobook and softback from Atria/Simon & Schuster).  Co-author of The Strategic Matrix for Selecting Diversity Initiatives and Discovering Your Positive Core – A Personal Guide™, she also co-authored the bestselling Success University for Women, Success University for Women in Business (a Kindle International Best Seller), and Yo, Tambien. Anita is a member of the Boards of the Pachamama Alliance, Bioneers, and the Evolutionary Business Council.  She is also a member of the Transformational Leadership Council with luminaries like Don Miguel Ruiz, Jack Canfield, Marianne Williamson, and John Gray. Anita earned her Ph.D. in Organization Development from University of Colorado, Denver, and her Master's degree in Public Administration, Policy Analysis & Financial Administration from the University of Colorado Boulder. Learn more about Anita at Anita-Sanchez.com.
Anita press kit »
This is a brief story of my vision, hardship and the transformation that came from utilizing four sacred gifts that were given to me by Indigenous Elders from the four directions. These gifts are for all human kind to help us live the fullest life, modeling the best of humanity.
"The Four Sacred Gifts: Indigenous Wisdom for Modern Times", published by Simon& Schuster, is available at  Four Sacred Gifts