We are grateful for the relationships Sanchez Tennis & Associates has developed over our 35 years of practice.
Here are direct testimonials provided by several of our clients.

Cool, calm, collected, and downright pleasant
Kit and I worked together at a very busy, and what was at first a very disorganized campaign headquarters. The operation was hectic at first, but Kit lent his expertise in organizing our volunteer coordination and did so with an air of effortlessness. I have never worked with anyone as cool, calm, collected, and downright pleasant as Kit. He helped put in to place systems and methodologies that made everyone's efforts more effective, and more than anything he made long hours and unpredictable days feel like they just glided by. I would jump at the chance to work with Kit again in any capacity.
Max Schwartz, Founder at Rock 2 the Core

An unusually effective trainer
Anita is an unusually effective trainer. I have been trained by her and also assisted her in some of her trainings. Anita connects with people on a very personal level due to her great focus and listening skills. She ignites action in individuals and in large groups simultaneously. She helps her trainees feel empowered to make breakthroughs. She draws on a wide variety of skills to help folks improve personal skills as well as group collaboration and effectiveness. She often provides great questions to open up personal reflection, group conversations and previously limited lines of inquiry. As a result she encourages people to tap into their creativity in new ways and at deeper levels. Anita also brings an unusual cross-cultural depth that few trainers can bring. She shares her personal life history in ways that add insight to topics like conflict, collaboration, networking, forming partnerships for success. I highly recommend Anita Sanchez as a facilitator, group trainer and personal coach.
Paul Riederer, Artist, Writer, Change Agent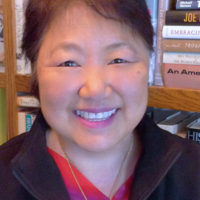 An incredibly energetic scholar
Kit is an incredibly energetic scholar who is able to connect Diversity Leadership & Appreciative Inquiry theories to practical business application for all levels of personnel. His focus on coaching executives to identify and implement actions to increase profitability while also leveraging human capital productivity is a skill matched by few. Kit is very approachable and disarmingly brilliant; his clients are very appreciated of his real-world consulting capabilities as seen in his multiple-decade client relationships. Kit's facilitation skills are superb because he creates a learning environment where curiosity and dialogue are encouraged. His talents are an asset to all who work with him.
Claire L Tse, MGA

I was trained by Anita
I was trained by Anita on the fundamentals of Appreciative Inquiry (aka A.I.) - a methodology to drive positive change - several years ago in Hewlett-Packard. Thanks to Anita's "hands on" and personalized teaching approach, I was able to learn and apply Appreciative Inquiry in my work and in my personal life. I have facilitated business and life changing workshops using A.I. with peers in Hewlett-Packard, and with family and friends. I highly recommend Anita as Appreciative Inquiry trainer and change management consultant.
Claudia Leite, Hewlett-Packard

A key partner to me
I have worked with Anita, through Sanchez and Tennis Associates, for over 15 years. She has been a key partner to me on a variety of strategic HR initiatives including diversity and inclusion, organizational change, executive coaching, and employee engagement. Anita brings amazing insights to her work, as well as expertise in a wide array of methodologies and approaches. The experience and expertise she brings to our work together, has allowed me to deliver HR programs with measurable business impact. Anita and Kit are simply the best at the work they do.
Julie Jensen, Bill & Melinda Gates Foundation

A world-class consultant
Kit Tennis is a world-class consultant who combines great dedication with business sense and interpersonal insight to help his clients succeed. I have known Kit as a colleague since 1990 and have seen his work. I have always admired his ability to understand complex situations and distill them to their workable essence and his ability to ask appreciative questions that move groups toward productive outcomes quickly. He is dedicated to bringing out the best in the people and organizations with which he works and is continuously developing and deepening his own remarkable skill set. It is said that a true test of the quality of a consultant is whether you would trust him or her to take your place in working with your own client. I would definitely place that trust in Kit
Chris Hoffman, Principal at Whole Systems Consulting

I had the pleasure of working with Kit
I had the pleasure of working with Kit Tennis over a period of 8 years, as part of a 6 person facilitation team on a 5 day Multicultural Workshop. It is often challenging in Diversity and Inclusion work to be the White man on the team, but Kit more than rose to that challenge. He is kind, sensitive, engaging and thoughtful. Kit had an intuitive sense of the group dynamic and was always able to tap into the right emotional center or leverage point to help an individual or a group move along in their learning. He brought these same qualities to his working relationships with his peers and I have fond memories of his warm support, sense of humor and thoughtful insights. I loved his ecclectic taste in music. I miss those days - the sense of community we built was a privilege never to be taken for granted.
Dr. Helen Turnbull, EO Global Inclusion & Unconscious Bias Expert

I still apply with passion our lessons
Dr. Anita Sanchez' diversity and inclusion skills helped me a great deal at Hewlett Packard (HP, outside HP, outside the USA, in my native Romania, in my second marriage and grandpa career, in accepting refugees in Europe, "O Tempora O Mores!" I still apply with passion our lessons from 20 years ago, that means you, Kit and your great team are Blessings for Humanity!
Sandu Crivineanu, LION, Hewlett Packard

A riveting presenter and natural leader
Having attended several events where Dr. Anita Sanchez either spoke or offered training (or both), I can attest that she is a riveting presenter and natural leader. She manages to be warm and even fun, while remaining ultra-professional. She is accessible and down to earth, yet maintains rigorously high standards. Dr. Sanchez's years of experience have given her such a wide range of skills, and such a track record of success, that I am convinced she can lead virtually anyone—from corporations to government agencies to individuals—to achieve stellar results.
Jane Ransom

I am always impressed
I had the privilege of working with Kit, Anita and associates on several occasions over the past eight years. I am always impressed by the number of tools they are able to employ to keep large, diverse groups productive in both the workshop and generalized workgroup settings. I highly recommend Sanchez Tennis and encourage clients to maximize the experience by trusting the process; you won't regret it.
Theresa Ponce, R&D Manager at Hewlett-Packard Company